Welcome to the Howdy Honda Service Department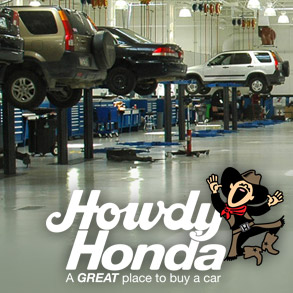 Whether it's time for just an oil change, your Maintenance Minder is light illuminated, or your car stalled in rush hour traffic, it's important you have a reliable service center to maintain and repair your vehicle. Our Howdy Honda service technicians and specialists have years of experience under their belts and have the skill set to properly diagnose the problem and repair your vehicle in a timely manner. As an additional convenience, we allow you to schedule service online so you can set an appointment after hours or whenever you have a few spare minutes during the day. For light maintenance tasks, we also have an Express Service Center where no appointment is necessary.
Our Express Service with no appointment needed is ready to handle all your light maintenance concerns.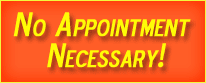 Service Tools
Service Coupons
Schedule Appointment Online
Honda Maintenance Schedule
Order Parts
Our Services Include:
Lube, Oil & Filter Change
Front End Alignment
Tire Rotation
Replace / Adjust Brakes
Service Package
Muffler / Exhaust Repair
Coolant Flush
Vehicle Checkup / Inspection
Transmission Fluid Service
Electrical Service
Tire Balance / Replacement
Maintenance (Wipers, Headlights, Etc)
Filter Replacement
and more!
Why Choose Howdy Honda for Auto Service?
There are a lot of places you can bring your car for auto service, but few live up to the standards of Howdy Honda. Through each step of the repair process, we make sure you understand what is wrong with your vehicle and what we are doing to fix it. Our team of technicians is as courteous as they are knowledgeable as we continue putting your automotive needs ahead of anything else, because that is the Howdy Honda way.
Genuine Licensed Honda Parts
When components in your vehicle need to be replaced, there is no compromise for Genuine Licensed Honda parts. We keep a supply of the most frequently used Honda parts at our service center to ensure speedy repair. On the off chance we don't have the part in stock, we'll get the part ordered and installed so your Honda performs as well as it did the day you first drove it off the lot.