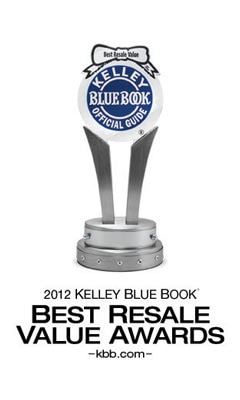 Kelley Blue Book, one of the leading online resources for car shoppers, announced the winners of their 2012 Best Resale Value Awards. The annual award recognizes current and upcoming vehicles that are expected to maintain a big portion of their original value after five years of ownership. And 2012 Honda owners earned some serious bragging rights because five Honda models received this great honor.
The distinction comes as no surprise to us; everyone knows the high resale value Honda's retain due to their quality and reliability. But it's good to be recognized and acknowledged by an independent third-party reviewer whose mission is to help consumers make an informed decision.
Many new car shoppers fail to realize the importance of a vehicle's resale value during the purchase decision. A vehicle's depreciation is a car owner's primary expense during ownership, so KBB and we recommend shoppers to take into consideration the future retained value of a vehicle before making a commitment.
As KBB has let you know, Honda's hold their resale value much better than other cars in the market. For this upcoming 2012 model year, KBB honored the following models with a Best Resale Value Award:
Honda Fit (Subcompact Car Category)
Honda Civic (Compact Car Category)
Honda Odyssey (Van Category)
Honda Civic Hybrid (Hybrid Car Category)
Honda CR-V (Top 10 Best Resale Value Cars)
Owning an award-winning car is not out of your reach – on the contrary! Just browse around our site and look at the inventory available, give us a call at 512-443-4300, shoot us an email at howdy@howdyhonda.com or swing by the store. One of our professional consultants will answer the questions you may have and get you in that award-winning Honda. If you already own a Honda, trade-it in! Your used Honda is worth much more than most other vehicles on the road, and you should take advantage of that equity.
RSS Feed
Tags: 2012 honda austin, austin car dealership, honda austin, used cars austin, used honda austin