Welcome to Howdy Honda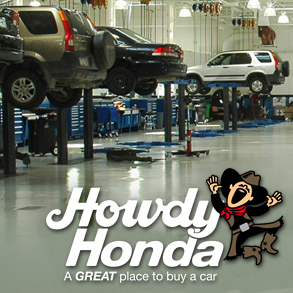 As our name implies, we are a friendly automobile dealership with a real pride in our Texas roots. I have made a personal commitment to ensure that every customer visiting our dealership be treated warmly, and with dignity and respect. In short, we treat our customers like I would want my own mother and father to be treated.
We've been part of the Austin, Central TX community for more than 25 years, so when our customers hear the name Howdy Honda, my hope is that a couple things immediately come to mind. First and foremost, a large selection of reliable brand new and Certified Pre Owned Honda vehicles. When you visit our showroom, I have instructed all our entire staff to excel in assisting you in whatever capacity you need. So whether you are simply browsing vehicles as you narrow your search, or you are ready to test-drive a few models, or you want to sit down with our financial specialists to discuss loan options and rates, the Howdy Honda team is here to do what's best for you.
We love it here in Austin and the relationships we have with our customers make it fun and exciting to be here every day. Stick with Howdy Honda and we'll continue working to create a car shopping experience that is right for you.
So whether you're shopping for a new car, looking for parts and accessories, or need to have your vehicle serviced, you'll find what you need at Howdy Honda. We have tried to include enough information on our website to ensure that you feel comfortable during your visit.
Sincerely,
Cliff Collier
General Manager
Howdy Honda Used and Certified Used Cars
Buying a new car isn't right for everyone and finding the right pre owned vehicle can help you save money. The Howdy Honda used car lot is filled with quality pre owned cars, mini vans, SUVs and light trucks that have been inspected by our vehicle experts and auto technicians to ensure each model meets our high standards, and more importantly, yours. Whether it's a used car from another automaker or a Certified Pre Owned Honda, you can expect Howdy Honda quality from each and every vehicle on our lot.
Howdy Honda Maintenance and Service Center
It's no secret that your car needs regular maintenance to keep it running properly. Through the years, your car will probably also need more serious service and repairs. When those times come, we hope you turn to us for your automotive service needs. We stock genuine Honda parts and have a team of skilled and experienced technicians that get the job done right the first time. We realize no one likes being without their vehicle — it's a major inconvenience — and that's why we do everything we can to get your car out of the Howdy Honda service center and back on the road as soon as possible.