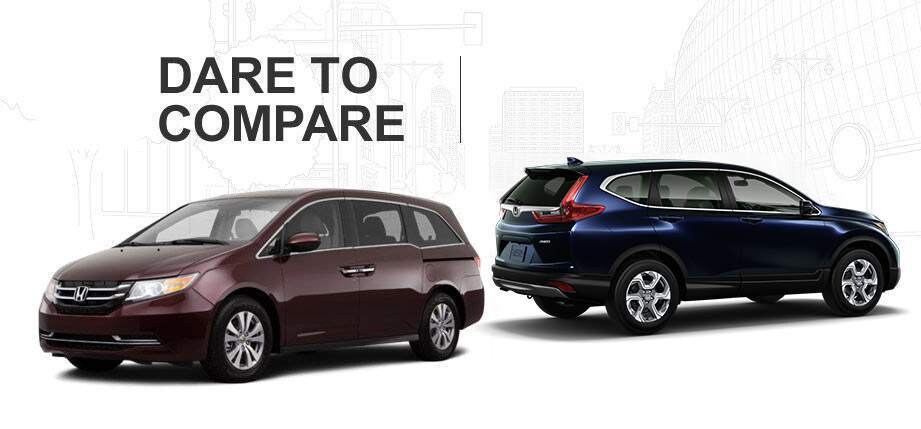 Buy a Honda vs. Lease a Honda
As difficult as it can be for people to pick out which option from the fantastic Honda roster to take home, making the decision to buy a Honda vs. lease a Honda can be even more difficult. Any of our sales professionals at Howdy Honda will be more than qualified and ready to help you make this decision. When you are deciding whether to buy a Honda vs. lease a Honda there are several factors that come into play such as (but not limited to) your specific financial/credit situation, the amount you can afford to pay each month and whether or not you are the type of person that likes to make modifications on your vehicle.
The advantages of buying a Honda over leasing a Honda are pretty clear and straightforward. First, when you take out a loan and buy a car, there is a definite end to the amount of checks you will have to write. Once you have satisfied the loan and made all of the payments on your new or used Honda car, truck or SUV the only expenses you are responsible for would be for maintenance, repair and insurance. Buying a Honda also means you are free to do your upgrades. You can add aftermarket performance accessories if you so choose like tires, a new stereo system or engine components.
Advantages of leasing a Honda
For as great as a deal it is for you to buy a Honda, for many people leasing a Honda vehicle makes better sense. Leasing a Honda can be a great value for people who have fairly regular routines and don't put a lot of miles on their vehicles. One of the most attractive advantages of leasing a Honda is that it allows you to take home a new car, truck or SUV much sooner and with greater frequency than buying a Honda. Most leases last for 36 months. Leases are also attractive to people who own their own businesses because of the potential for tax savings and breaks. People interested in this part of a Honda lease advantage should consult their usual tax professional for the exact details and rules.
Regardless of which route you choose to take when deciding to buy a Honda vs. lease a Honda there is an attractive and affordable option for you at Howdy Honda. Also don't forget to take a look at our deep inventory of Honda Certified Used Cars in Austin, TX. Each Honda Certified Used Car goes through an extensive inspection process to make sure it is up to the quality expected by our customers.